Best Gaming Mice for Fortnite in 2021

Fortnite Battle Royale is the ultimate video game that is making waves all over the world for the unique style and elements that are used. The shooter genre is definitely one of the most popular in the market with many top titles in the gaming world being first person or third person shooters.
Fortnite has turned the world upside down with millions of people trying to become great players that reach the highest ranks in the game.
When most people think about video games, they are simply thinking about having fun and enjoying themselves, but the truth is that the gaming world has become very profitable in modern times. There are people who are able to gain popularity in several social media and streaming services.
This allows a lot of players to start getting sponsors that want to advertise their products and services on the videos that people publish or stream live.
Fortnite and full-time income
Believe it or not, there are thousands of Fortnite players that make part-time and full-time income playing this game. Their income does not come directly from playing the game, but instead, it comes from the amount of people they get as an audience. The more people they view, the more money sponsors are willing to pay and some sponsors will also give free merchandise to the players. Just check the youngest Fortnite pro player Mongraal.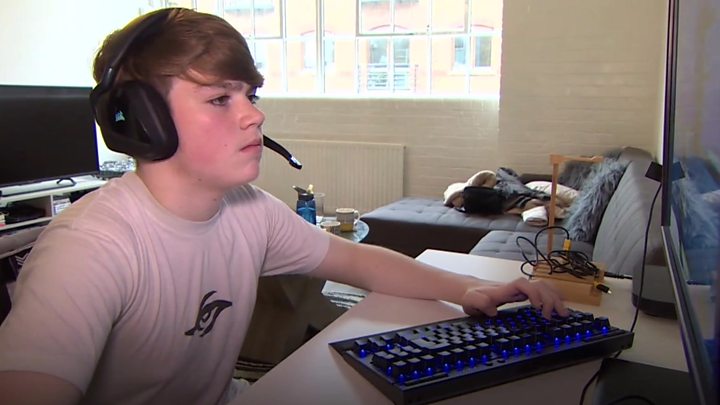 Given that this has become so profitable, the need for optimal equipment for gaming is huge. Some people play games like Fortnite on gaming consoles, but those who are looking to reach pro levels of accuracy in their gameplay are always going to prefer using a good computer gaming rig.
Being that Fortnite requires accuracy for shooting, the use of gamepads is never going to be ideal for the best results. A keyboard and mouse are the weapon of choice for a game like Fortnite and you can be sure that every top player in the ranks is using computers. Not only because the controls are better, but also because a gaming rig allows for proper setups with custom streaming options that really help enhance the overall experience for the viewers.
The mouse is ultimately the most important part of the Fortnite controls. This is used for aiming and shooting amongst other features, but there are many specific aspects of a professional gaming mouse that are necessary if you want to achieve high levels of gameplay.
Gaming mouse suggestions
There are many manufacturers out there that have created very good gaming mouse models for everyone to choose from based on what types of games they play. The Fortnite gaming mouse has to be one that provides quality and durability, so we have decided to share some of these models. Keep in mind that there are other options but we chose a few that meet the requirements for optimal Fortnite gaming.
We believe that doing some research on your own is always good, but is going to give you a great place to start your search and all of these models are a great purchase without a doubt.
Logitech G502 Proteus Spectrum
This is a powerhouse of a gaming mouse with an advanced optimal gaming sensor. This is ideal for people who want their movement to be registered immediately on the screen. The weight and the balance on this mouse can be tuned and this makes it extremely versatile at pro levels that require optimal precision.
You can also customize the color lighting to any kind of color you want, but being that this is only a visual factor it's not going to be that important. It also comes with eleven programmable buttons to ensure the most reliable setup for any gamer. A good Fortnite mouse all around and definitely perfect for any other computer activity.
There is no question that you are going to be buying top quality when you decide to purchase this mouse for your Fortnite gaming sessions. Just make surethat you set it properly to achieve the best results.
Razer Deathadder Elite
This 16,000 DPI 5G optical sensor makes the Deathadder an incredibly accurate choice for anyone who needs sharpness when aiming their weapons in Fortnite. It has an extremely comfortable ergonomic shape that is known for providing a great experience and it is known for being a very durable mouse. It also comes with customizable colors, but it features only seven programmable buttons.
There are many gamers who believe this is the best mouse for fortnite because seven buttons is more than enough to map all the things they need for optimal gaming.
When looking for quality, you can always expect great things from Razer and they have become a very prominent name in the gaming peripherals niche.
Steelseries Sensei 310
At 12,000 CPU 350 IPS, the Sensei's optical sensor is an excellent choice for accuracy. Some people argue that the differences between the ranges of the sensors is barely noticeable after a certain number of digits, but there is no question that some of these gaming mouse models are going to perform better than others. The Sensei proves to be a great contender with excellent features to offer.
The name given to this mouse is definitely one that fits. This is a top-level mouse that is reserved for those who are looking to have total command and control of their gaming.
Logitech G Pro
The Logitech Pro gaming mouse sports an advanced gaming sensor with a 12,000 DPI range. This makes it as much of a sharpshooter as the other models we have mentioned. Built to last, it features six customizable buttons and it has customizable lighting colors. If you want a reliable, durable and comfortable mouse, you will find that the Logitech meets those requirements.
This is a brand that has been around for quite a while and their gaming peripherals have become quite popular in the last decade.
Corsair M65 Pro RGB
Just like the other models we mentioned, the Corsair provides a powerful sensor with a 12.000 DPI quality range that is going to be perfect for any gamer that is looking to excel at Fortnite. The button positioning is optimal and this has made it a very reliable choice for many pro gamers. It can be fine-tuned to meet your specific requirements and it feels very comfortable for long hours of play. It certainly meets all of the requirements needed for the best fortnite mouse.
HyperX Pulsefire Surge
The HyperX Pulsefire gets its name from the insanely accurate precision of the 16,000 DPI sensor. The shape of the house, the materials used and the placement of the six programmable buttons make this one of the best fps gaming mice available for purchase right now. It is easy for pro players to get very technical about this mouse and the features it offers, but the most important thing to consider is that this mouse was built for the purpose of durable, accurate and reliable gaming.
This is a brand that is not as popular and famous as some of the others, but they have proven to be worth checking out as an excellent option for gaming.
Important factors to keep in mind when you choose a mouse
There are quite a few factors to consider when choosing the best fps gaming mouse. The first one is the type of game that you will be playing. Given that the topic of this article is Fortnite, we are going to focus on the features that a gaming mouse should have for first and third person shooters.
Fortnite is set by default for third person action, but the game plays exactly like a first person shooter, so anything that benefits FPS games is also going to be ideal for Fortnite.
1. Programmable buttons
Being able to program several buttons other than the main traditional mouse buttons is going to be very important. Games like Fortnite have several commands that go beyond firing weapons and jumping, so having other buttons that are accessible and responsive is very important when choosing the best Fortnite gaming mouse. Look for a mouse that has enough buttons for all the controls you need to use in Fortnite, but it never hurts to get more buttons in case you plan on playing other games that require extra commands.
2. The sensor
There are two types of sensors for gaming mouse setups. The optical and the laser. They both have their advantages and disadvantages, but this is going to depend on the surface you use and the style you have when you move the mouse around. It's always recommended to try both of them out to see which one fits your gameplay style better. The debate between which is better is constant in the Fortnite community, but they are both very good.
3. The sensitivity
The levels of sensitivity of a mouse are going to be essential for a game like Fortnite. Sometimes you need to move your mouse with surgical precision to achieve a perfect shot against another player that might be far away. The Fortnite mouse sensitivity is a major factor that pro players talk about all the time.
4. Weight
It might seem like this is not a big deal, but the weight of the mouse needs to be balanced with the kind of hand movements you do. If the mouse is too light, you might feel that you move further than you should, but if the mouse is too heavy, you are also going to have trouble being precise.
Mouse grip styles
The size of your hands and the style of grip that you find most suitable is going to be very important. The ultimate fps gaming mouse should feel very natural in your hands and you need to see if the size of the mouse is perfect for your grip. Some people only use their fingertips to hold the house and push the buttons while others prefer to have the support of their palm to get a better grip.
If you look at professional players, you will see that they use various styles but the light fingertip method seems to be much better for fast reflexes according to many players. Regardless of which one you choose, you need to make sure that it feels right for you and that is the main thing to keep in mind with this first factor.
Conclusion
The best gaming mouse for fortnite is not a specific mouse on this list or any other list. There are quite a few options available that are going to meet the demands and needs of the professional gamers, but it all comes down to which model provides the best experience for each gamer at a personal level. The good news is that this guide helps you by pointing you in the right direction when you start to consider which mouse is going to be the best purchase for your needs.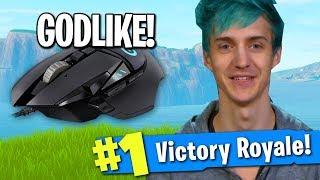 Don't forget that gaming is no longer just a hobby or a pastime. The days when parents told their kids to stop wasting their time playing games are over. Now everyone has a chance to make a living out of playing games like Fortnite and this has turned the gaming industry into a career option that goes beyond programming and designing games.
You can always decide to look for professional players or enthusiasts that hang out in large communities online and get their opinion on the best mouse options. You will see that many of them will recommend models that we mentioned on this list. Being able to feel comfortable while playing games has turned into a necessity more than a simple luxury.
Now that you have a much better idea of the best gaming mouse options for optimal controls and accuracy, you should be able to make an informed decision that is going to make your Fortnight gaming sessions to a whole new level. This is the kind of peripheral that truly enhances gaming for players in this genre.
Sources
1. Corsair Official Site - Gaming mice
2. Razer Official Site - Gaming mouses
3. Logitech.com - Gaming mice
4. SteelSeries.com - Gaming gear
5. HyperX Official site - Gaming devices
If you'd like to get a response from a member of our support team please send a note to info@fortbase.net.