Best Gaming Headsets for Fortnite in 2021 - Approved by Pro Players & Streamers

It is popularly believed that a good headset is important to having a realistic gaming experience. Whether you are passionate about games or not, making use of a computer gaming headset can sure make your long gaming hours to be pleasurable. In addition, they can even stimulate a better performance when you hear sounds coming from the game.
There are a number of factors that you need to consider while buying a gaming headset for Fortnite Battle Royale.
TOP PRO FORTNITE PLAYERS AND THEIR HEADSETS
CHECK BEST GAMING HEADSETS
Tech comparison of headphones
Best 2021
Turtle Beach Elite Pro
Audio-Technica ATH-ADG1X
HyperX Cloud II
Beyerdynamic DT 990 PRO 250
Sennheiser G4ME ZERO
Logitech G430
SteelSeries Arctis 7
Material Embouchure
Mesh Fabric with Foam Cushioning

Extremely soft earpads provide superior comfort for extended game play

Memory foam ear pads

Audio Memory Foam Replacement Ear Pad set

Leatherette double layered memory-foam ear pads

Soft sport cloth ear cups
Soft touch coating on the removable speaker plates
Headphone Driver
50 mm
53mm
53 mm
45 mm
50 mm
43 mm
40 mm
Frequency Range
20Hz-20kHz
5 – 35,000Hz
20Hz-20kHz
5 - 35.000 Hz
15Hz-28kHz
20Hz-20kHz
10Hz-40kHz
Sensivity
120dB
99dB
102 dB
96+/-3dB
108 dB
90 dB
102 dB
Type of Connection

Wireless

15 hours battery life

3.5 mm (1/8") with 1.2m attached cable and 2.0m extension cable

USB, jack 3,5mm, 1+2m extension
Coiled connecting cable with mini-jack plug (3.5 mm) & ¼" adapter (6.35 mm)
3.5mm jack
Analog 3.5 mm jacks, USB

Wireless

24-hour battery life

Imperdance
32 Ohms
48 ohms
60 Ohms
250 ohms
50 Ohms
32 Ohms
32 Ohms
Ergonomics
Personalized fit, Glasses Relief System
3D Wing Support system offers hours of comfort and a secure fit
Advananced audio control box
Supremely comfort
Vol control integrated onto the right ear cup
Easy-to-use volume dial

The self-adjusting ski goggle headband

Microphone
Built-in, Sound Isolating
Enables crystal clear in-game voice communication
Noise-cancelling mic via inline soundcard
No
High-end noise cancellation

Folding, noise-cancelling boom mic

ClearCast, the best mic in gaming

Mic Sensitivity
-38+/-3dB
-41dB
-39dB+/-3dB
No
-38+/-3dB
-40dB
-38+/-3dB
Our Verdict
Best for Xbox/PS4
Premium sound
Best budget
Top Pro choice
Best budget
Best cheap
Best Wireless
HyperX Cloud II
This headset is designed to fit your gaming needs, regardless their type of system or play style. So, whether you need sound for your PC domination or stereo cans constructed for console life, there is a sound cloud made for you from the best gaming headset for fortnite.
The various models from this cloud brand is created to give you the long lasting comfort that you deserve with it's HyperX memory foam, as you play your game. In addition to this, it's detachable noise cancelling microphone echo very loud for a more convenient and successful team work. Hyperx are the best gaming headset under 100 Usd.
Also with it's durable aluminum frame, the amazing headset is engineered to absorb any form of damage that may occur during use.
Features
The HyperX Cloud II has a solid aluminum frame that can prevent the headset from damage.
It is aptly designed to give you game without pain with it's comfortable memory foam ear and well-padded headband.
It has the option of passive noise cancellation when gaming.
It is highly compatible with best gaming headset xbox one.
This product has a HiFi feature that is compatible with 53mm drivers for super quality in-game audio.
Beyerdynamic DT 990 PRO 250
Beyerdynamic is one of the most popular manufacturers of studio headsets and can also be used for computer gaming headset. The inscribed ''DT'' branded device is both suitable for established musicians and aspiring artists.
The DT 990 PRO product is specifically meant for professional audio scene and has the function to filter sounds. The manufacturer made it clear that the devise is thick but not cloudy, bright but not harsh and warm but also sincere. Also, in the area of comfort, it is designed to give long periods of pleasure and softness.
Features
The product is purely designed as a studio workhorse. their designs are strictly useful for it's purpose but the make-up materials are not close to being exotic. I can only pinpoint that the earpads are nice.
The DT 990 cable is not really mobile-friendly and all the parts of the headphone can possibly be replaced.
Due to it's usefulness in the studio, the beyerdynamic DT 990 PRO is a very comfortable tool during sound mixing and recording. Though it's bass sound is a little below average, it has airier presentation.
The price is affordable and it is guaranteed to last for more than one year and six months.
SteelSeries Arctis 7
This is one of the top gaming headsets you can find in the market. The SteelSeries 61463 Arctis 7 is comfortable during use and can work with many devices, with a stylish look. The device sets the pace for what a good gaming headset should be.
It's amazing design makes it a top notch among the array of universal gaming headsets. The Arctis 7 comes in either white or black and has a micro USB port for charging. Just at the left ear is the volume slider and an exclusive port which can connect to a 3.5mm audio jack for a convenient mobile listening.
Features
Obviously, the SteelSeries Arctic 7 is a wireless headset. It is designed to be compatible with your computer by plugging a wireless amplifier to a USB port. When the amplifier is paired to the headset, it is ready to use.
You can possibly leverage on the capabilities of the wireless device for a speaker or phone. The feature which this product carries does not however support a Bluetooth device but it provides that you can stream wireless audio to a headset and computer and this is an incredible feat for a wireless device.
Turtle Beach Stealth 600 Xbox One & PlayStation 4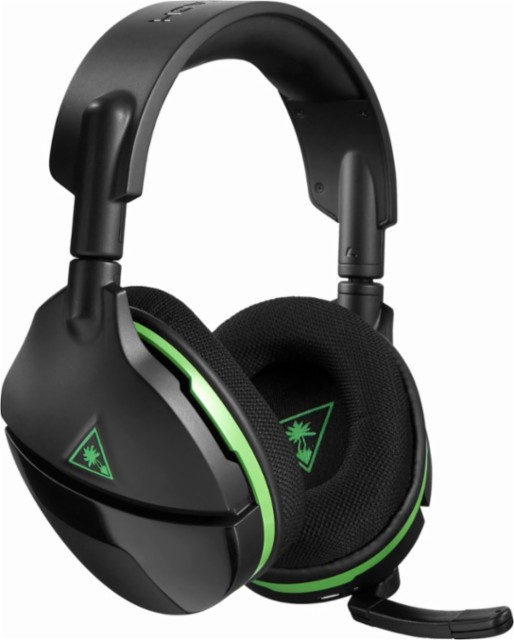 View on Amazon
These are same names of one product. The Turtle Beach Stealth 600 Xbox One & Turtle Beach Stealth 600 PlayStation 4 are just one gaming headset device. A new innovation from Microsoft Wireless and Windows Sonic Surround sound which has a flip-up microphone attached to it. This device is categorized with fortnite gaming headsets.
It has a friendly design and ensures comfort for it's user. The Stealth 600 also comes with a Superhuman Hearing sound setting and features a volume control as well as a fifteen-hour rechargeable battery. So, whether it is the type that ends with Xbox One or the PlayStation 4, you are assured of an endless comfort and pleasure while gaming.
Features
The Stealth 600 Xbox One provides quality audio and it's 50mm delivers high and deep sounds.
With Xbox wireless, you can possibly connect from your headset to your Console. This means that you only play when you turn on the headset without making use of any wire or adapter.
One peculiar advantage about the gaming headset ps4 is that it ensures comfort on every side. The ear cushions are just wrapped in a breathable textile so you can feel the softness.
Of course it has a beautiful Superhuman Hearing feature which catches every tiny sound that emanates from whatever you are listening to.
Sennheiser GAME ZERO
This is one of the best gaming headset under 150 available in the market. It offers exceptional sound quality while gaming. The new Game Zero headset is designed to let air go through to ensure the ears are cool during long periods of play it is also intended to suit both the professional or for home use.
It is extremely light weight, lush velvet ear pads and a well sized ear cups that will give maximum pleasure and comfort during game time. It always comes in black color. Several reviews from it's customers indicates that the product provides comfort during use and the velvet ear pads filters sound accurately so that one can have a good listening experience.
Features
The Game One device features a volume control at the right ear up. Though it has a robust design, the Sennheiser Game One headset features a well -covered velvet ear pads for maximum comfort while hearing sounds.
It has an attached noise canceler microphone that will reduce sound pressure and ensure clear conversations.
It allows for exchangeable cables and is compatible with several devices like mobile phones, tablets and a PC; especially those with a 3.5mm jack input.
It is also observed that it the user can conveniently mute the microphone.
Logitech G430
Logitech headset is wired. It is aptly designed like Dolby 7.1 and DTS Headphone:X to give you accurate hearing while you play your game. Though it is somewhat bigger in size, it's noise cancellation capacity is not really encouraging.
Logitech has been in the market for a while with a comforting price and value put together. Gamers are always guaranteed of comfort as it does not squash the head during gameplay. It is also lightweight and it's flexible nature allows for about a 90% rotation to lay flat, just as the users may wish.
The lay-flat design makes them easier when moving and more comfortable when resting around the neck.
It is also noticed that the sound quality is pretty bad though it is slightly better when compared to other headsets. It would rather be nice using it for video game.
Features
Logitech G430 is wired and it's cord is fairly long, making it very easy to use from a distance.
It can be considered the best budget gaming headset but some users may not welcome the idea behind it.
it is lightweight and flexible so that the user can easily rotate it in several choice positions he may wish.
The G430 is compatible with windows 10, Windows 7, Windows 8 and PS4
Audio-Technica ATH-ADG1X
The audio-Technica is designed with an improved with 3D Wing Support and an incredible ear pads. To keep you even more in control, the ATH-ADG1X is attached with a gooseneck microphone to handle all your in-game communication.
It's sound filters are natural as you can easily hear every drop of sound that emanates from the game you play. Well, this product seems to be different from other headsets with it's ability to submerge unwanted noise in order to give your voice that crystal clear that you expect.
With it's 1.2m long cable, the gaming headset provides an easy regulation of the volume or a locking mute switch which the user can handle with just one hand while the game is on. With this particular feature, I will like to mention that it will take a user to have adequately mastered it's use in order to fully understand when to mute the volume.
Features
It's open air design gives an incredible sound quality as the ear pads are tender to the ears even when the game extends for a long period.
It is built to securely fit the ears and the head where it is placed.
With the Audio-Technica headset, you will always get an accurate sound reproduction and it's modern microphone which is attached guarantees a clear in-game voice communication.
Conclusion
No doubt, gaming headsets for Fortnite Battle Royalegives maximum pleasure while playing your favorite PC games. There are several areas that can adduce to this fact-from the headband to the attached mics and other amazing designs.
Nevertheless, whether you need a headset for sound production or for playing Fortnite Battle Royale, it is important to be clear about what you really want. If you get this right, you'll be assured of endless pleasure with the device and then get value for your money
How to choose headphones
Comfortable to Use
If there is no comfort in using a gaming headset, then it's of no use particularly when you plan to spend a long period with it. Making use of headset that is of a lighter material is highly recommended, because of the longer time you will spend using it.
Check the Budget
Most gaming headsets for Fortnite Battle Royale are very affordable. Nevertheless, when you plan your budget, it is ideal not to buy wireless gaming headset because they can be of a higher cost and need more equipment to function properly.
There are more comfortable and cheap gaming headsets in the market. What is more important is that it should serve it's purpose.
It Should Be Compatible
It makes no sense that the gaming headset you bought is not compatible with your system. Of course you need to properly check if the headset you're buying is compatible with the PlayStation, PC or Xbox.
You should also consider the type of games you usually play. The reason for this is that the type of game you play determines the type of headset you should use. For example, action games require a bigger and stronger headset so it can serve it's purpose.
Select Either the Wireless or Wired
These two types of headsets have their advantages and disadvantages. Regardless, wired headsets are better to use especially as a great lover of games. They do not require charging, very reliable and affordable too.
The only advantage I can point out from the wireless headset is that it does not deal with tangled wires.
Check for Microphone
When using a gaming headset, microphone is necessary especially when you need to communicate with other players. Due to advancement in technology, headsets now have inbuilt microphones just to make you have comfort and fun while you play with other people.
What is an Equalizer?
An equalizer is simply known as the hardware and software linear filters that regulates or modifies the volume of a given frequency. When analyzed with sound engineering, the sound is being felt on the human ear. It is obvious that particular frequencies are higher than others, even though the energy is applied when hearing the sounds.
Equalizers were actually designed for physical venues like outdoor areas and movie theatres just to equalize all the sound frequencies. It is however important to note that equalizers work in bands. The type that is in your car has a dual band; meaning that you can regulate both the high and low ranges. They can normally be referred to as the ''treble'' and ''bass'' bands.
Type of Connections Vs Wireless Connection
Wireless headsets are the frenzy in our today's world. The incredible transition into using smart devices inspired a new age of wireless connections. Many people are now accepting this innovation with wireless freedom. This clearly means that wires are not really necessary.
However, many users often feel a little confused as to the type and make of various headsets that are available in the market and this challenge has made it difficult to make the right choice of headset.
The choice to go wireless is so fascinating and one difference between a wireless gaming headset connection and other connections is that it is completely hands-free, which enables the user to do other things with the hands while the headset is on.
The Bluetooth is another type of connection. Though it can be used interchangeably with the wireless headset, they are somewhat different from each other in terms of technology.
All wireless devices are not Bluetooth devices rather; all Bluetooth devices can be called wireless. Whereas a wireless headset needs an adaptor to connect to the device, the Bluetooth device is attached in the device by default.
Source
1. Audio-Technica Official Site - Gaming Headphones
2. Razer Official Site - Gaming headsets and audio
3. Logitech.com - Gaming audio
4. SteelSeries.com - Gaming gear
5. HyperX Official site - Gaming headsets
6. Beyerdynamic Official site - Gaming headsets
7. Turtle Beach Official site - Gaming headsets
8. Sennheiser Official site - Gaming headphones
Awesome
Thanks so much for your feedback!
If you'd like to get a response from a member of our support team please send a note to info@fortbase.net.